---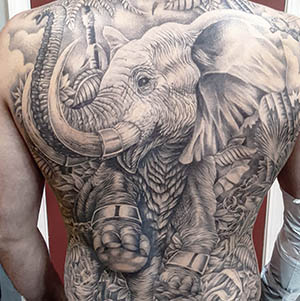 Rob Forest is a well-known award winning Tattoo Artist and one of the foremost portrait and realism specialists in Canada. Originally from a small City in Ontario Rob was born with a pencil in his hand. At least that's what he tells people now when asked about his talent. Rob has been featured in Tattoo Magazines and The Premier Okanagan Lifestyle Magazine ICON. Rob also had Global Okanagan TV come to his studio in Kelowna and do a feature with him tattooing a portrait. At 13 he was selling his first portraits. Rob started his career in Victoria and then moved to the Okanagan. Rob wanted to be closer to his family so he and his wife Donna moved to Toronto, where they have fallen in love with the city and all it has to offer. Rob would also be interested in doing seminar's to help other artists enhance their career. Have a look at Rob's online portfolio and you will see why he is so sought after. If you're interested in booking an appointment, or have any further questions, email us at rob@robforestdesigns.com.

Rob looks forward to meeting new clients as well as continuing his relationship with his existing clients within Canada and the US.
Rob is the only artist in his studio, so you will the enjoy the privacy to listen to your music, be on your phone or simply watch a movie and of course bring a friend to watch or hold your hand.