---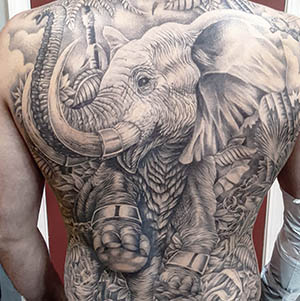 Rob Forest is a well-known award winning Tattoo Artist and one of the foremost portrait and realism specialists in Canada. Originally from a small town in Ontario Rob started his love for art at a very young age. Rob started with pencil drawings in which you can see as part of his talent within his Portfolio.  Rob has been featured in many magazines, including a segment on Global TV in the Okanagan where his start in the Tattoo business really began then grew from there. Thank you to the many clients that trusted Rob to use his artistic skills from pencil to ink. Today he still has clients that fly from different parts of Canada into Ontario to see him. Since we have been in Ontario his clients come from all parts of Ontario where we have learned more about Ontario than ever before, we thank you.
Rob will always be honest when discussing your tattoo ideas with him. He believes that working together listening to your ideas then in turn giving you his long time expert advice (over 35yrs) you will both come up with something that you be will be proud to wear.
Thank you for all the years you have trusted and will continue to trust Rob to be the Artist you had been looking for. Rob will always look forward to meeting new clients and new ideas.